8.0 Week #20 - Kits, Space and Speed SOTW plus the Return of Guilds. (Final Week of 8.0)
Come play Faithful!
IP: faithfulmc.com
Discord:
faithfulmc.com/discord
SPACE SOTW

- 2 MAN 0 ALLY! (DUO)
Friday, May 1st at 4:00 PM EST
KITS SOTW

- 30 MAN 0 ALLY!
Friday, May 1st at 6:00 PM EST
SPEED SOTW

- 5 MAN 0 ALLY!
Saturday, May 2nd at 1:00 PM EST
GUILDS SOTW

- 15 MAN 0 ALLY!
Sunday, May 3rd at 2:00 PM EST
(Convert your timezone here: https://www.thetimezoneconverter.com/)
Vote on various server polls at
http://faithfulmc.com/discord
Voting!
By voting you help boost our ranking # on popular MC sites which helps us the server grow.
Players can vote two times a day (one on each site) in return for a God Key on both Speed and Kits.
God Key
- 100% Chance
Monthly Crate
- 10% Chance
Air Drop
- .5% Chance
Vote Here!
The Final Week of 8.0 is here!
After this weekend, we will start preparation for our HUGE Summer Update... coming this June.
I will reveal more info about our update as we get closer to launching.
Teaser
━━━━━━━━━━━━━━━━━━━━━━━━━━━━━━━━━━━━━━━━━━━━━━━━━━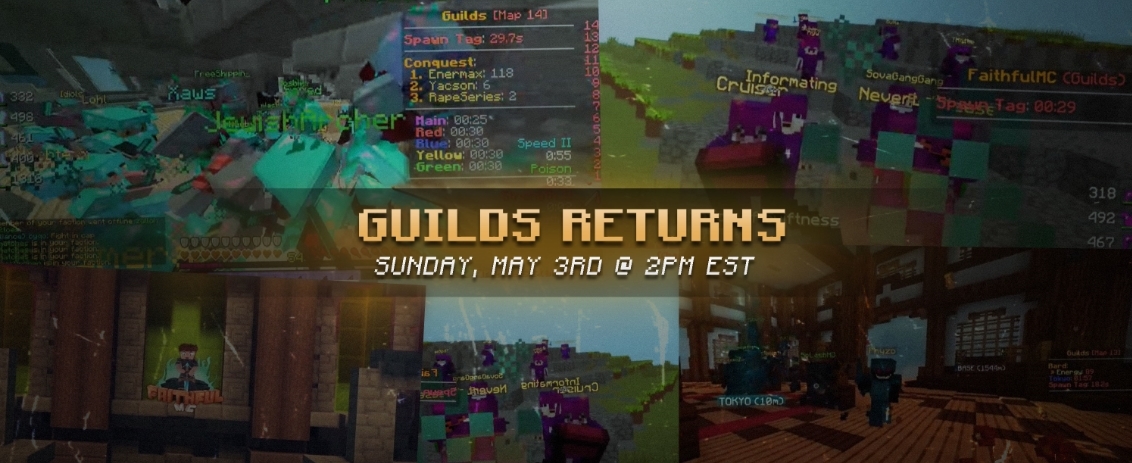 It's back...
Wow. Guilds is really making a return in 2020. I tweeted about the idea just a week ago when I discovered old files from Faithful on a 2017 flash drive. It's so awesome to see all of you excited about this server again. Especially all of the OG factions coming back... shout out to you guys. Below are a list of features to expect on Guilds, please read thru it thoroughly.
Info:

• Map Kit: Protection 1 Sharpness 1

• Map Border: 2500 x -2500.

• Building in Combat disabled

• Custom Enchants disabled

• Disguises disabled

• Partner Items disabled

• Reclaims will be adjusted accordingly

• DTR Regen adjusted accordingly

• 15 Man Factions 0 Allies

• 10 Minute KOTH Caps

• 20 Minute

Palace

Cap

• SOTW Timer:

1 Hour

• Archer, Miner, and Bard enabled. (No Rogue)

• We're bringing back a map from Map 7, as well as the OG Map 13 Spawn.

• Very Little P2W! Everything on the Guilds Store will be sold in Bundles which will be affordable.

Custom - Boss Ranks will be able to redeem their Kits, however they will be nerfed to suit Guilds. There will be one other kit sold on our store, Kit Diamond, which will include map-kit armor and tools, with no potions included.

• The Rig: 2017 plugins, with modern optimizations. The goal is to bring back the same game-play that you all fell in love with years ago without any lag. Guilds also has a lot less code & features then Speed, so expect smooth game-play.

In need of a faction? Check out

Kevstah's video

chatting about Guilds and recruiting for Welfare. Kev was a key part of Faithful years ago and recently made a casual return to YouTube. Be sure to show him some love when you see him on! <3

Season 2 of Guilds Returns this Sunday, May 3rd @ 2PM EST! Each Map of Guilds will last ONE WEEK! Each Map will run Sunday thru Sunday.
Then, we will take a full week off and run another SOTW on the following Sunday. To clarify, there will be two SOTW's for Guilds each month rather than four. ━━━━━━━━━━━━━━━━━━━━━━━━━━━━━━━━━━━━━━━━━━━━━━━━━━

**VAULT** SPEED EVENT (Changes)

There won't be PvP (right away) inside the Vault. This is because of how many of you guys decide to show up each time it resets. PvP will still be enabled outside of the Vault, so be sure to kite or chase those with heavy loot.

Info:

The Vault is beneath South Road, 500 blocks out from spawn.

The Vault consists of 16 chest which are filled with OP items such as top tier armor, partner loot, essential materials, monthly crates, keys and even occasional air drops. The Vault also contains one

Rare

sword each drop. (The best enchantments on the server)

The Vault resets four days a week on the following days:

Sunday @ 4PM EST Monday @ 1PM EST
Wednesday @ 1PM EST Friday @ 1PM EST

The Loot Chests are only accessible up to an hour after the Vault Resets.

Players cannot build nor break inside the Vault Region. Additionally,

SOTW Timer

&

PvP Timer

must be enabled to enter.

━━━━━━━━━━━━━━━━━━━━━━━━━━━━━━━━━━━━━━━━━━━━━━━━━━ Space SOTW - Friday @ 4PM EST

• 2 Man, 0 Ally

• Protection 1, Sharpness 1

• Archer, Miner, Bard, and Rogue enabled.

• Custom Enchants

• 5 Minute KOTH Caps

• 10 Minute Citadel Cap

• 150 Point Conquest Cap

Kits SOTW - Friday @ 6PM EST

• 30 Man, 0 Ally

• Protection 1, Sharpness 1

• Archer, Miner, Bard, Builder and Rogue enabled.

• Custom Enchants

• 5 Minute KOTH Caps

• 10 Minute Citadel Cap

• 150 Point Conquest Cap

• Brand new Warzone and Map!

• Updated Partner Items

Speed SOTW - Saturday @ 1PM EST

• 5 Man, 0 Ally

• Protection 1, Sharpness 1

• Archer, Miner, Bard, and Rogue enabled.

• Custom Enchants

• 5 Minute KOTH Caps

• 10 Minute Citadel Cap

• 150 Point Conquest Cap

• Vault Changes

Guilds SOTW - Sunday @ 2PM EST

• 15 Man, 0 Ally

• Protection 1, Sharpness 1

• Archer, Miner and Bard enabled.

• 10 Minute KOTH Caps

• 20 Minute Palace Cap

• Map Border: 2500 x -2500

• Building in Combat disabled

• No Partner Items

• Disguises disabled

━━━━━━━━━━━━━━━━━━━━━━━━━━━━━━━━━━━━━━━━━━━━━━━━━━ Space Event Schedule: • End Conquest takes place Sunday at 1PM EST
• End Conquest

takes place Tuesday at 1PM EST and 6PM EST


•

End Conquest

takes place Thursday at 1PM EST!

•

EOTW takes place Thursday at 5PM EST Speed Event Schedule: • Vault Reset

takes place Sunday at 4PM EST


• Conquest takes place Sunday at 1PM EST
• Vault Reset

takes place Monday at 1PM EST


• Citadel

takes place Monday at 2PM EST and 5PM EST


• End Conquest

takes place Tuesday at 2PM EST and 5PM EST


• Vault Reset

takes place Wednesday at 1PM EST


• Conquest

takes place Wednesday at 2PM EST and 5PM EST


• Citadel takes place Thursday at 2PM EST and 5PM EST
• Vault Reset

takes place Friday at 1PM EST


• End Conquest takes place Friday at 3PM EST
• Faction Wars take place each day at 3PM EST.

•

EOTW takes place Friday at 5PM EST Guilds Event Schedule: • Koths

will take place every 2 Hours!


•

Palace

takes place Monday at 1PM EST


•

Palace

takes place Wednesday at 1PM EST
•

Palace

takes place Friday at 1PM EST

•

EOTW takes place Sunday at 2PM EST SPEED F-TOP PRIZES 1st Place $50.00
2nd Place $30.00
3rd Place $15.00 GUILDS F-TOP PRIZES 1st Place $50.00
2nd Place $30.00
3rd Place $15.00 KITS F-TOP PRIZES 1st Place $50.00
2nd Place $30.00
3rd Place $15.00

Prizes applicable for Speed, Guilds and Kits

(Join Donation Support to claim rewards)

(ts.faithfulmc.com) Enter our latest and greatest Giveaway here:

━━━━━━━━━━━━━━━━━━━━━━━━━━━━━━━━━━━━━━━━━━━━━━━━━​
Last edited: