Speed SOTW, New Valentines Crate, Ability Package and More!
Come play Faithful!
IP: faithfulmc.com
Discord:
faithfulmc.com/discord
━━━━━━━━━━━━━━━━━━━━━━━━━━━━━━━━━━━━━━━━━━━━━━━━━━━━━━━━━━━━━━
​
Speed Updates
We're pushing many awesome changes to Speed this weekend:
Adding & Changing:
•
Bard changes :
- Speed III duration increased from 5s to 8s
- Regen III energy cost is 35 instead of 20 and the duration is increased from 3s to 5s
- Resistance III energy cost is 45 instead of 40 and the duration is increased from 3s to 5s
•
Strength II in beacons are now enabled again but the beacons are only obtainable in events.
•
Removed the 2021 crate and added the Valentines Crate
•
Removed the Mystery Crate and replaced it with the Ability Packages
•
Replaced the melon seeds from the shop to melon blocks
•
Archer Changes :
- Archer will be resistance II instead of resistance I
•
You can now snowball people who are on pearl cooldown.
•
Secret agent buff the effect duration is 20 seconds instead of 10 seconds and the cooldown is now at 2 minutes instead of 10 minutes
•
Nerfed snake bite. It's now poison II instead of poison III and the effect duration is 5 seconds instead of 10 seconds.
•
Removed random enchants to kits (blast protection, thorns etc...)
•
You can no longer switcher people while in a disguise
•
If you're in a silverfish disguise and you hit someone you will lose your disguise
Fixed:
•
Fixed a dupe glitch with ability items
•
Fixed the speed III ability item
•
Fixed Bard passive jumpboost and fire resistance
•
Fixed milk buckets, it won't remove all milk buckets in your inventory
•
Fixed a bug where you die multiple times
•
You won't get a stattrack on pearls, potions etc...
•
Fixed queue (Sorry ahah)
━━━━━━━━━━━━━━━━━━━━━━━━━━━━━━━━━━━━━━━━━━━━━━━━━━━━━━━━━━━━━━
Brand New Valentine Crate
The new Valentine Crate includes 4 Legendary kits New $125 Voucher Reward, Ability Packages and More!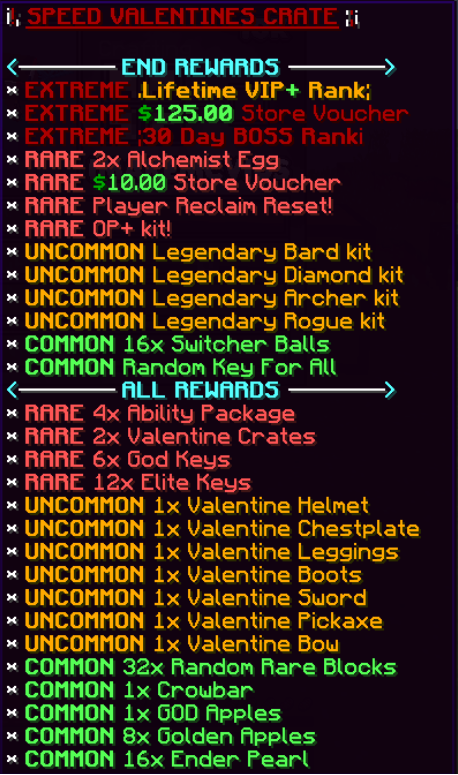 Brand New Ability Package
The new Ability Package includes all ability items
You can get in this Package :
- x5 Strength II
- x5 Speed III
- x5 Regen II
- x5 Bone of wisdom
- x5 Snake bite
- x1 Birthday Cake bomb
- x16 Switchers
- x32 Diamond blocks
- x32 Gold blocks

The Valentine Crate and Ability Package will be available for purchase on Saturday before SOTW here: https://store.faithfulmc.com/
━━━━━━━━━━━━━━━━━━━━━━━━━━━━━━━━━━━━━━━━━━━━━━━━━━━━━━━━━━━━━━
Brand New Valentine Kit
The new Valentine Kit is the remplacement of the old Winter Kit but it has ability items including Switchers, Bones of wisdom, Secret agents and more!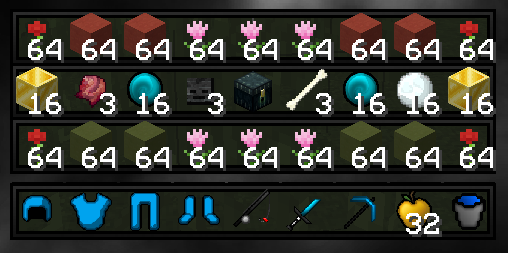 ━━━━━━━━━━━━━━━━━━━━━━━━━━━━━━━━━━━━━━━━━━━━━━━━━━━━━━━━━━━━━━

SOTW Information
SOTW
takes place every
Saturday @ 1PM EST!
Map Info:
Factions: 5 Man | No Allies
Kit: Protection 1 | Sharpness 1
Classes: Rogue, Bard, Archer, Miner
Events:
Koth: 5 Minute Cap (Every Hour)
Conquest: 200 Points
Citadel: 10 Minute Cap
Vault: First come first serve!
Faction War: Last faction standing!
Faction TOP:
1st Place:
$100.00
2nd Place:
$75.00
3rd Place:
$50.00
4th Place:
$25.00
5th Place:
$10.00
All the best,
Lulux